The Art of Barbeque comes from a humble place here in America, a way to feast for those who couldn't afford to eat "high off the hog." It was a way for people to break bread with family and soak in whatever blessings life had to offer. There are many ways to serve up some good 'cue; however, region to region, state to state people tend to be overly dogmatic about how BBQ should be done. Grilled on high or slow and low, chopped or pulled, beef or pork, to baste or not to baste…
Let us handle Thanksgiving while you handle your KIN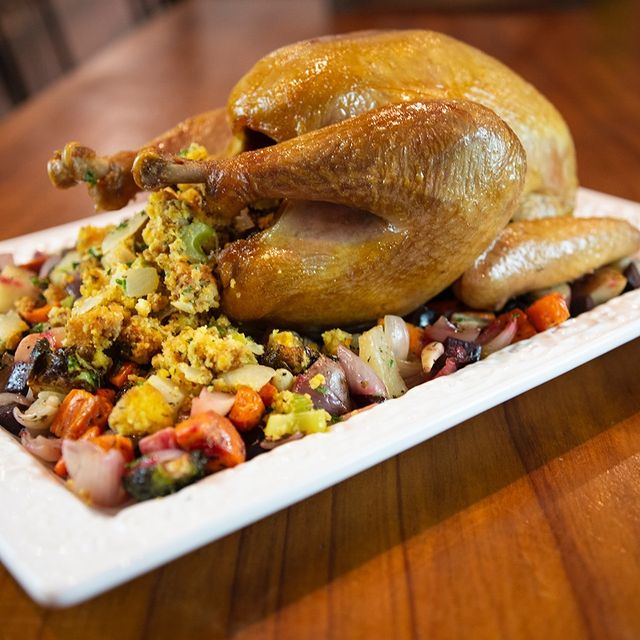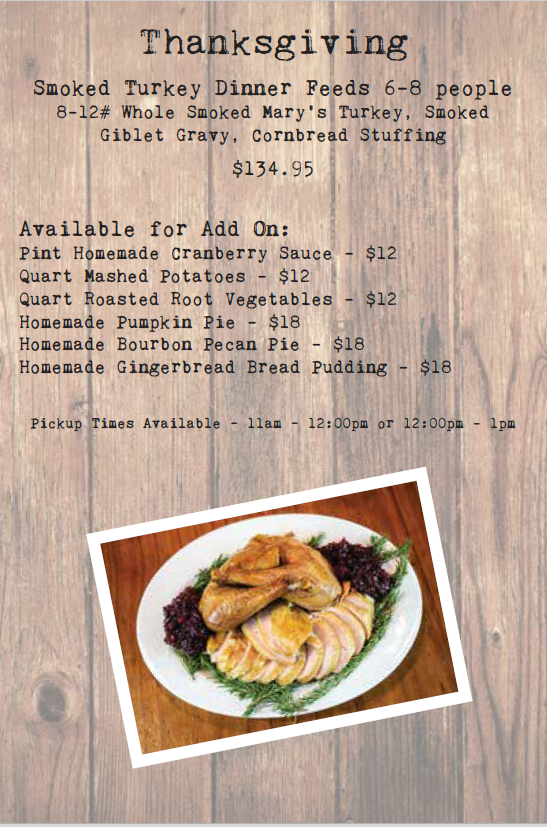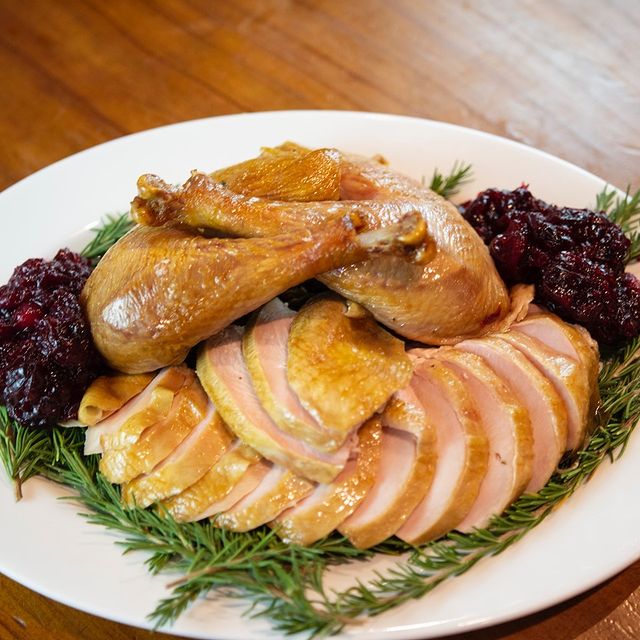 304 Center Street
Healdsburg, CA 95448
(707) 473-8440
 Our food provides a way for people to break bread with family and soak in whatever blessings life has to offer.
Last minute decision to explore some surrounding towns led us fo KINSmoke and we couldn't be happier that we landed here. We did the 4x4 and every single thing was delicious... the ribs, the wings, the pork shoulder, the brisket, the mac and cheese, the Granny Smith coleslaw, the brussel sprouts, the sweet potato tots, the cornbread, the hush puppies and alllllll the coordinating dips and sauces. This was a bbq lovers dream in a quaint little town. Not only was the food terrific, the service couldn't be beat. Our waitress was sweet, funny, attentive, good with the kids and just all around fantastic. We didn't go inside, we were greeted at the door and requested patio seating so we can't speak on the inside but I'm pretty sure it would have been just as delightful. So happy we found this place early in our couple years adventure in this part of the country. Can't wait to come back to explore Healdsburg and visit KINSmoke again. Worth the drive from ANYWHERE! Just an overall excellent experience and a great find...for sure will be back on another visit.
The BBQ was the best brisket I have EVER had and I lived in the South for many years. So tender it melted in my mouth, sauces were outstanding, sweet potato tots were tasty... everything was just perfect. Service was great as well, they were attentive. Great value for what you get and the quantity was plenty. Try this place if you are a bbq lover.... It's top shelf. (Guy Fieri should review this place (if he hasn't already))
Dined here on a Saturday evening. It was crowded but we didn't have to wait for a table. Smoking good eats. KINSmoke is the perfect BBQ version of Kin. The modern rustic ambience together with warm lighting, makes it an ideal spot for a relaxing dinner . We had been wanting to try this place for awhile and finally landed here for Valentine's dinner. So much to pick from-but -we finally ordered the Beet Salad's , Irish coffee's, crispy Brussels sprouts, and each the 1x1 platter with brisket which was tender, juicy, and grilled to perfection: Smokey, flavorful, and delicious. This find has smoking backyard BBQ vibe Note: Make a reservation - popular dining destination so if you're not queued up early you may end up waiting a bit fir a seat. Perk: The service is welcoming, quick, efficient. Perk: Dog friendly (outside dining only). For entrees, we got the Shrimp & Polenta and the KIN burger. Both were amazing. The shrimp and polenta reminded me of a cioppino broth with mushrooms. I ate the entire dish. The KIN burger was also delicious and the French fries were perfect! I would definitely recommend this restaurant!